Abdulrauf Fitrat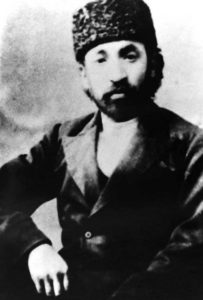 Abdulrauf Fitrat was a leading Uzbek intellectual figure of the 20th century. One of the most prominent activists of the Central Asian social reform movement, Fitrat was an ardent advocate of reforms through education, literacy and use of the print media.
Born in 1886 into the family of a prosperous Bukharan merchant, Fitrat was first educated in a traditional Islamic school in his native Bukhara and later in Istanbul, where he studied literature and history.
After returning to Bukhara in 1914, he became involved in social and political activities. Fitrat was one of the most influential and prolific authors of the epoch, with most of his works exploring the need for social and educational reforms in the region. He heaped criticism on the backwardness of society, sought to establish the causes of spiritual and material stagnation and called for the cultural and political awakening of the people. Fitrat fervently urged the introduction of modern, European-style education and criticized traditionalists' opposition to exploiting and accepting Europe's model of economic and industrial progress. He considered the education of women absolutely vital for the development of society.
In 1915 Fitrat became one of the leaders of a political movement called Young Bukharans, which pressed the powers that be for political and social reforms. During his brief tenure as minister of education in the 1920s, Fitrat launched broad educational reforms and arranged for seventy students from Bukhara to study at German universities so that they could subsequently return and teach locally the knowledge they had acquired in the West.
However, in the mid-1920s Fitrat's works started to be subjected to an intensifying smear campaign for their nonconformist views by writers and activists who were more obliging to the Soviet authorities. Nearly all of Fitrat's literary works, with a few exceptions, were labelled nationalistic and remained banned for half a century.
Following his dismissal from public office in 1923
Following his dismissal from public office in 1923, Fitrat spent the rest of his life as a scholar, publishing a number of works on Central Asia's languages, literature and music. Although he was not involved in any political activity following his dismissal from his ministerial post, Fitrat nevertheless became a victim of the Stalinist purges of the late 1930s. According to archive material uncovered many years after his death, Fitrat was executed on 5 October 1938 in Tashkent. This great representative of Uzbek intellectual thought and his works remained largely unknown to the public until Uzbekistan gained its independence.