Bobur Ismailov, Illustrator of the Novel Days Gone By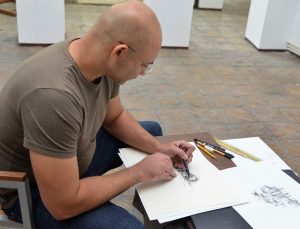 The Islam Karimov Foundation together with the Permanent Delegation of Uzbekistan to UNESCO is directing efforts to translate the famous novel Days Gone By into English and French. The first Uzbek novel, written almost 100 years ago by Abdulla Qodiriy, is one of the author's most-read books and has lost none of its topicality today.
The illustrations to accompany the translations are done by the Uzbek artist Bobur Ismailov, well known for his work for the theater, cinema, cartoons, books and murals. He spent a number of months working solely on the book's layout, ensuring that the illustrations would be precisely aligned with the text.
In order to create a visual paraphrase of the novel, Bobur Ismailov not only relied on his own rich imagination but, with an intuitive feeling for the period, went deeply into the ethnography of the Uzbek people in the 19th century. He captured both the outward appearance of the main characters and the visual style of that time. His success in this regard is a distinguishing feature of the artist's work on the novel.
In the words of Bobur Ismailov: "It was a great honor for me to do the illustrations for such a famous work, the first Uzbek novel, Days Gone By. Even though I've had quite a lot of experience with artwork for books, the illustrations for this novel presented me with their own set of problems – I had to find reliable pictures of architectural monuments, clothes, the life and spirit of that age.
"As I worked on the illustrations for the novel, I gave them the feeling of old, yellowed photographs, conveying all the depth and spirit of that moment in history."