Chor-Minor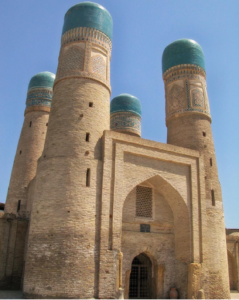 The Halif Niyazkul Madrassah in Bukhara, known as Chor-Minor (from the Persian منارچار – four minarets) was listed by UNESCO as one of the World Heritage Sites.
This charming and picturesque structure was built in 1807. Four towers shaped like minarets with blue domes are enjoined on corners of a square and rectangular building of the madrassah.
While travel guides describe Chor-Minor as a madrassa, the structure was simply a gatehouse to a larger madrassah, the remains of which have not survived.
However, we can envision its initial appearance thanks to descriptions of contemporaries as well as archaeological research. Under the dome there was a hexahedral hall with four exits, facing the four cardinal directions. The four minarets with blue domes symbolize not only four directions of the world, but also four of dynasties which ruled Bukhara – the Samanids, Qarakhanids, Sheibanids and Mangits.
Niyazkul-Bek was an affluent Bukhara merchant, who during his travels along the Great Silk Road admired the local sights of the places he visited. He was mesmerised by the grand Charminar Triumphal Arch, a cube with four tall minarets, in Hyderabad; and while visiting Agra was fascinated by the Taj Mahal Mausoleum, whose dome was reflecting in the nearby pool, and whose entrance was decorated with four towers.
Upon his return to Bukhara, Niyazkul-Bek instructed architects and astronomers to build a madrassah in line with his sketches and asked them to comply with two conditions. The first condition was to build the madrassah on the Great Silk Road so that the caravans of the merchants could easily find the way to the building where they could find shelter and relax. The second was to make every visitor of the madrassah understand that the people who lived in various parts of the world had only one sky above and stood equal before God.