Interview with Tatyana Karimova – wife of the First President of the Republic of Uzbekistan, Islam Karimov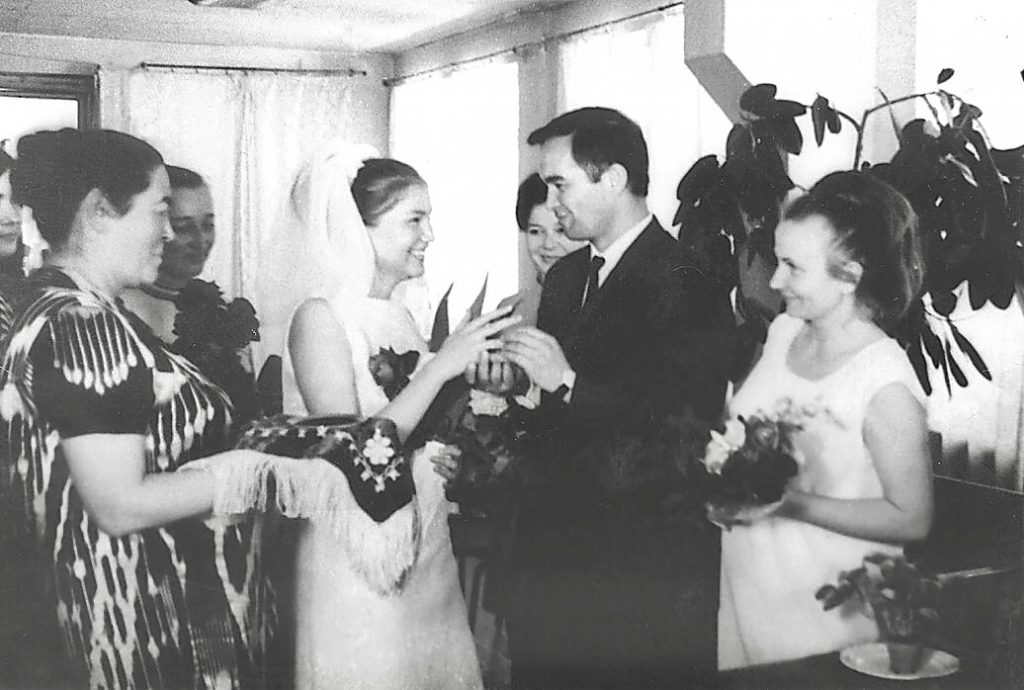 [Q]: Mrs Tatyana Karimova, we will soon be celebrating the 80th birthday of the First President of the Republic of Uzbekistan, Islam Karimov. We are all well acquainted with him as the head of our country, but I am sure our readers would be very interested to find out what Islam Karimov was like as a family man, to know something of his day to day life.
 We know Islam Karimov as a strong-willed man, a goal-oriented, confident, charismatic person. What moulded his character? What can you tell us about his childhood?
[Tatyana Karimova]: It's true, those are the qualities which became the hallmarks of Islam Karimov's whole life, thanks to which he was able to achieve everything he did. He was just a boy – he grew up in hard times, in the war and post-war years – when he realised what it meant to earn your daily bread. Times were hard for everyone after the war. His family was not well-off. They were just a simple family living in the old part of Samarkand. Islam didn't know Russian when he started school, but thanks to his personality, his determination and tenacity, he finished school with a gold medal. His essays were read out to the whole class, and, as one of his classmates let on later, some of them made crib sheets from them to use for matriculation. And so there he was, a lad from a simple family who left school with flying colours, setting out to meet his destiny. He had nothing but that gold medal in his pocket and a heart full of big dreams. Yet he came back to his hometown forever as the First President of the independent Republic of Uzbekistan.
In her memoirs, one of his classmates describes an incident which nicely sums up Islam Karimov's personality. While the class was out harvesting fruit in the summer, one of the adults asked the children what they wanted to be when they grew up. Most of them answered, 'a pilot,' 'a carpenter,' and so on, but young Islam amazed both children and adults alike with his reply: "I want to be like Amir Temur!"
Even as a schoolboy, his favourite literary hero was Danko, a character from Gorky's story in which a young man sacrificed himself and saved his people by means of his own burning heart. His motto: 'burning brightly be a light for others' made a lasting impression on young Islam. It later became the President's lifelong creed.
[Q]: Could you please tell us how you met? What was it about this young man called Islam that particularly impressed you?
[Tatyana Karimova]: Islam Abduganievich and I met in 1970 in Samarkand where I was a final-year student at the Faculty of Engineering. We first met at the home of his elder brother, Ibod Ganievich, whose wife, Khairiniso Sultanovna, was my cousin. I lived in a student hostel and would often visit them after classes. Ibod Ganievich and I got on very well, he was a very kind, intelligent and interesting man.
One day – it was just before the New Year holidays, I remember – I had been visiting my cousin as usual and was on the point of leaving when a young man arrived. He was introduced to me as Ibod Ganievich's younger brother, and that is how we met. It was Islam Karimov.    
We didn't really interact much at our first meeting. My cousin asked me to help pour water for the guest so he could wash his hands after his journey. Then we met a few more times, briefly, on family occasions.
It was early March, the seventh to be precise, the day before International Women's Day. The weather was glorious. It was warm, and everything was bright and beautiful, fresh after a spring shower. The sky was reflected in puddles, everyone was in a good mood. I was in my student hostel. Suddenly I was summoned. They said someone was asking for me. I had no idea who it could be. I went out and there he was: Islam Karimov!
He invited me to take a walk in the park. It was the first time we talked together alone. We spoke of the weather, nature, studies. A normal conversation. But then suddenly Islam stopped and asked: "Will you marry me?" He took me completely by surprise. I can't explain it. It was as though my mind hadn't yet grasped anything, hadn't time to reason, but my heart and soul said: "Yes." When you are absolutely certain of what you are saying. I suppose I sensed this man's strength, an inner warmth, his charm, certainty, a kind of magnetism… So I said "Yes," and that was that. Just a few brief encounters.
In April, Islam went to my parents in Kuvasay to ask for my hand. We were married in May. There were two wedding ceremonies, first in Samarkand then in Kuvasay.
[Q]: You shared many years of married life. How did you get along? Did you have difficulties, and if so, what were they?
[Tatyana Karimova]: After the wedding, we began our family life together in Tashkent, in a two-roomed flat. We lived very simply. Islam Abduganievich was given the flat when he worked as assistant to the Chair of the State Planning Committee.
We got along well. We redecorated everything ourselves since his salary didn't go far. We bought the paint, painted the walls and doors ourselves, varnished the floors, put glass in the balcony windows. We fixed everything! Though it was usually Islam who did most of it, with his own hands. He could turn his hand to anything. And generally, he loved doing things himself. I had a whole suitcase of tools, and could always produce the right thing at the right time – a drill, pliers, spanners, screwdrivers, hammers and lots of other things besides.
One day, Islam Abduganievich was painting the floor and was badly poisoned by fumes from the varnish. He had a terrible asthma attack, but he didn't let me call the ambulance. I fed him milk all night long. After that, he developed an intolerance to the smell of any kind of paint.
Islam Abduganievich usually worked until four on Saturdays and Sundays, and after work we would do the wallpapering or painting, whatever was needed. He never misused his position, in any job. Other people, other civil servants, lived their lives differently, they even laughed at him, but it was his principle never to abuse his position.
Even when we moved to the state dacha he still preferred to do some things himself. For instance, if Islam Abduganievich took it into his head to hang a picture or rearrange the furniture after work, he would set to it straight away, despite my remonstrations to do it the next day with some workers.
[Q]: Can you tell us what else he was like, perhaps the President had some sides we couldn't even imagine?
[Tatyana Karimova]: I'd like to tell you something which only those close to him could see. Islam Abduganievich was very fond of giving people flowers. It always gave him great pleasure. When we were just married, but even after he became President. And when we were strolling near the dacha, he would always find some little flowers or a twig from a blossom tree to give me. Those memories are very precious…
At the weekend, after practising on the tennis court, we would stroll through the avenues round the dacha with his tennis partners. And sometimes Islam Abduganievich would gather bunches of sweet-smelling bird-cherry blossom or his beloved basil so the men could give them to their wives when they returned home. He always wanted to make people happy that way.
Islam Abduganievich was not attached to things, he could easily part with them. He liked to give people presents. Our house was always full of souvenirs, but when we had guests round, Islam would pick up whatever came to hand and give it to them as they were leaving. I'm ashamed to say that sometimes I would even get cross if he gave away something I wanted to keep. But he could give anything away, just so long as it pleased our guest. It brought him great pleasure.
He was a strict but just man. He was strict with himself, and with those around him, too. You could say his lifestyle was that of an ascetic. He ate frugally, he never allowed himself to overindulge. Sport played an important role in his life, and he made sure he was always fit. He wrestled as a young man, and went to the gym right up to the end. He also swam and was a keen tennis player.
Usually his annual vacation was about a week long, and these were several short breaks of two or three days throughout the year.
We used to drive out to the Kainarsay in the mountains, not far from Tashkent, he was very fond of the scenery there, and often said there was nothing more beautiful than our Uzbek landscapes.
He didn't like going to the doctor, and I always had trouble persuading him to go for any kind of medical check-up. He was always thinking about his work.
He loved nature, and was very much in tune with it. He wasn't just fond of nature himself – he very much wanted his companions to enjoy it, too. Even people who were not at all sensitive to nature gradually came to appreciate it, learnt to see the seasons changing, be it at the dacha, or in the mountains. And Islam Abduganievich was always especially delighted when he saw blossom trees. He loved cherry trees most of all, with their blossoms of 'white foam.' He loved to see the first spring leaves and red-gold tints of autumn.
One year, two storks arrived to winter with us, and they later multiplied to a flock of 70-80 birds. Even though they were not the easiest of neighbours, Islam Abduganievich respected them and requested others to respect them, too. He would get very angry if someone went too close to the storks or frightened them in any way – they are very sensitive, delicate creatures, after all. They are a magnificent sight, especially when the white birds soar against a dark evening sky.
These white birds were a symbol of peace for Islam Abduganievich, a symbol of goodness, happiness and tranquility. So it is quite logical that the stork became not only his personal emblem, but a symbol for the whole Republic, too. We can see it in subsequent architectural designs, especially when we look at the Ezgulik Arch.
[Q]: What was our First President like as a father and grandfather?
[Tatyana Karimova]: Islam Abduganievich was very fond of snow, especially the first snow of the season. He always tried to make time for a walk in the snow with the children, and then later with the grandchildren. He taught the children not to be afraid of water, how to swim and ride a bicycle. When our younger daughter, Lola, was little, he would go out with her to make the first sledge tracks and, of course, make a snowman. On Sundays they would take bike rides together in the dacha grounds and in the autumn gather leaves. I still have the herbariums they made back then.
Later, Islam Abduganievich would relish walking through the dacha grounds with his grandchildren. He taught them to swim and cycle, too, and to see the beauty of nature around them. He loved to watch them skateboarding or roller-skating. He admired their agility – he was just an observer then.
When he became President he was much busier, so we didn't have time to go out. My husband became even more focused on his work, with even less time for his family.
So you could say it was my fate to serve Islam Abduganievich. I did my best to create a good working environment for him, especially when he became President, since I realised that work was paramount for him.
He had a strong character, he was very determined, and worked a lot, pushing himself to the limit. When we married, he was already an accomplished young man. I immediately realised what an important man he was and that he had a difficult but great future ahead of him.
I was always at his side. Throughout our life together, I have had to improve myself, grow and rise to the challenges, hone my patience and my understanding, because I always had a man by my side who himself never stopped learning, who always forged ahead. Our love has always united and led us throughout our life…