Karimov Foundation announces launch of its 2019 scholarship programme for postgraduate studies in Europe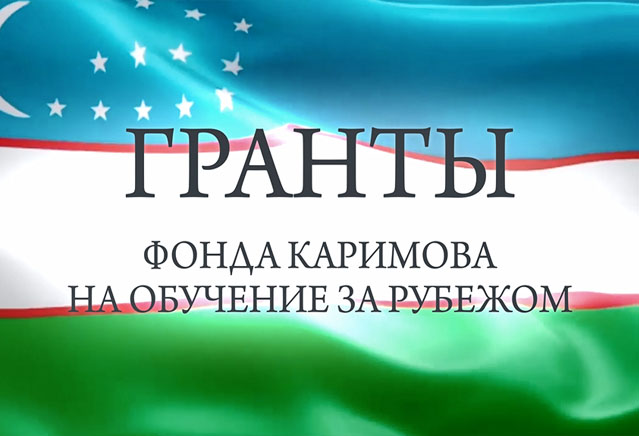 The Karimov Foundation is proud to announce the launch of its 2019 scholarship programme, which will provide young people from Uzbekistan with the opportunity to pursue their postgraduate studies at leading universities in Europe.
The scholarships are offered in the following fields:
Renewable energy;

Chemistry and chemical engineering;

Water and land resource management;

Mechanical engineering;

Architecture. Construction of buildings and structures;

Design and construction of roads, bridges, tunnels, overpasses and airfields;

Technology and equipment of the textile industry;

Tourism and travel services management;

Information and public relations.
Applicants should be citizens of Uzbekistan aged under 35 and should be graduates (or in their final undergraduate year) of universities in Uzbekistan or overseas. They should be fluent in English, French or German, and meet the language competency requirements of overseas institutions. They should also demonstrate academic excellence in their chosen field of study.
The Foundation will provide up to two years' full funding for tuition fees and living costs for scholarship holders abroad.
For further details about the application process please visit the following sources:
https://fondkarimov.uz/uz/news/2942/
The Karimov Foundation is a charitable organization founded in October 2016 by Lola Karimova-Tillyaeva and Tatyana Karimova in memory of the first president and founder of the independent Republic of Uzbekistan.  One of the key goals of the Foundation is to provide access to educational opportunities for young people from Uzbekistan through merit-based scholarships awarded in various academic disciplines and fields of study. The scholarships enable talented students to pursue their education at some of the best universities in Europe.
Under the Foundation's 2017 and 2018 scholarship programmes, a total of 22 young people from Uzbekistan have been provided with two-year scholarships and are now studying for their master's degree at some of the leading universities in Germany, Italy, Czech Republic, Russia and Poland.