Meeting with a Delegation from the Japanese Organization Soka Gakkai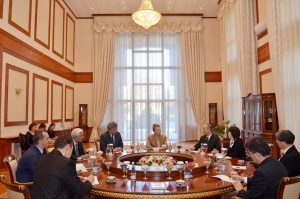 Representatives of the Islam Karimov Foundation joined a meeting with a delegation from the Japanese organization Soka Gakkai ("Value-Creation Society") led by its vice-president Kenji Yosigo.
Soka Gakkai is a major Japanese organization whose leading affiliate members include a university, secondary schools, museums and publishing houses; concert and theater associations operate under its aegis as well as academic and research organizations.
Referring to the First President of the Republic of Uzbekistan as "our Honorary Doctor Islam Abduganievich," Kenji Yosigo noted that Islam Karimov had personally led the work of creating and implementing a completely new educational system for the young people of Uzbekistan, fundamentally changing their thinking and worldview. I. A. Karimov received the title of academician and honorary doctor from a number of foreign universities, including his election as Honorary Doctor of Soka University in 2002.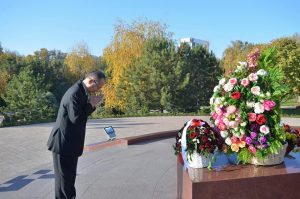 "Islam Abduganievich placed great importance on the development of relations with your country and always stressed the fact that Japan had rendered Uzbekistan substantial support, particularly in the early years of our country's formation," emphasized Tatyana Karimova, Member of the Board of the Islam Karimov Foundation. "He greatly valued the personal, friendly relationships he enjoyed with the leadership of Japan."
The guests from Japan paid tribute to the memory of Islam Karimov and laid flowers at the memorial to him.