Presentation of the Book My First President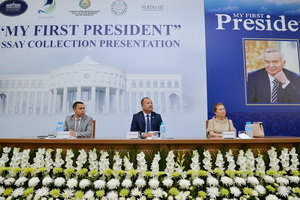 A presentation of the book My First President took place on 7 September in the main building of the Uzbekistan State University of World Languages. Published in English, the book consists of compositions written by students of educational institutions, winners of a writing competition, dedicated to the memory of the First President of Uzbekistan.
The competition was held under the aegis of the Ministry of Higher and Secondary Specialized Education of the Republic of Uzbekistan in partnership with the Islam Karimov Foundation. Some 1,400 students of higher education, professional colleges and academic secondary schools took part, writing in English. The submissions of 36 authors were deemed by the members of the jury to be the most insightful into the set theme. Four winners were awarded an Apple iPad by the Islam Karimov Foundation, and the other 32 received electronic books.
The Islam Karimov Foundation is a charitable organization created in memory of the founding father and First President of the independent Republic of Uzbekistan. The foundation was established in October 2016 by Tatyana Karimova and Lola Karimova-Tillyaeva to perpetuate the memory and life principles of the First Leader of independent Uzbekistan. The foundation's basic goal is to continue the work of Islam Karimov in support of Uzbekistan's young generation, as well as advancing and preserving its rich historical, cultural and literary heritage both in Uzbekistan and abroad. A priority area of the Foundation is organizing programs in the field of education by awarding grants to talented young people to study in leading institutions of higher learning at home and abroad.