Shah-i-Zinda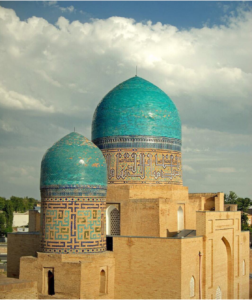 Shah-i-Zinda (Uzbek: Shohizinda; from Persian شاه زنده – "The Living King" ) is one of the most magnificent monuments of medieval architecture in Samarkand, which is cloaked in centuries-old mysteries and legends.
At the entrance portal runs a legendary stone staircase which represents a path of repentance and prayer. Throughout the centuries, the staircase was considered as a symbol of the transformation of human spirit.
As legend goes, prominent Sufi scholar Bahauddin Naqshband observed a 40-day prayer service in Shah-i-Zinda. Invoking God's name in his daily prayers, he climbed the staircase step by step, eventually reaching its upper platform. While standing at the top of the staircase, he suddenly saw a rider on a white horse rapidly approaching him. For a moment, the Sufi thought that he would be trampled by the horse. However, the rider peered into the great scholar's face, putting some questions to him.
Flabbergasted pilgrims, who were watching what was going on from the ground, saw that after ending the discussion, the rider turned his horse and disappeared just as suddenly as he appeared. According to legend, it was Qussam ibn Abbas, who decided to put the religious scholar to the test at the height of his spiritual journey. Qussam ibn Abbas was a cousin and contemporary of the Prophet Muhammad (PBUH). He served as the mayor of Mecca, and subsequently, during the rule of the caliph Muawiyah, was dispatched to Samarkand with a small number of troops to spread the Islamic faith in the area.
Once after finishing a sermon, Qussam ibn Abbas went underground into a cave, where he supposedly continues to live to date. Hence the name of the memorial – "Shah-i-Zinda", which means "The Living King".
Legend has it that if the number of stairs while ascending and descending is the same, then the person can be considered free of his or her sins.
Many centuries on, people from around the world – followers of various faiths and religions – continue to come to the foot of this staircase, to make a prayer and count the steps.
In 2001, the Shah-i-Zinda complex was listed by UNESCO as one of the World Heritage Sites.