Abdulla Qadiri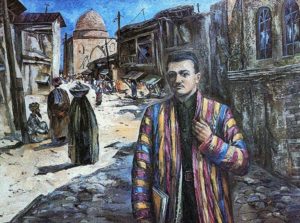 Abdulla Qadiri was one of the most influential Uzbek writers of the 20th century. His first full-length novel, "Days Gone By", is considered one of the pearls of contemporary Uzbek literature. This tender, heartfelt and passionate tale of love has touched millions of hearts and captivated readers with the beauty, majesty and grandeur of the author's prose.
Qadiri was born on 10 April 1894 in Tashkent in the family of an affluent merchant. He started publishing his first poems in 1912, but it was as a novelist that Qadiri made his most important contribution to Uzbek literature. He is best known for his two historical novels, "Days Gone By" and "Scorpio from the Altar".
Qadiri was fluent in Arabic, Persian and Russian and translated literary works by Nikolay Gogol and Anton Chekhov into the Uzbek language.
Tragically, this great writer, one of the best representatives of Uzbek creative thought, was persecuted during Stalin's great purges. He was arrested in 1937 on charges of treason and sentenced to death.
Following Qadiri's tragic death, his novel, "Days Gone By", remained banned for many subsequent years and people who had the novel at home risked questioning by the police or arrest.