Ikat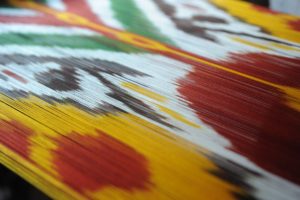 The ikat school of silk weaving, a craft which stretches back over the centuries, has been lovingly handed down from generation to generation and today it is one of Uzbekistan's priceless cultural treasures. The unique, intricate technique of ikat weaving as we know it now developed gradually over many centuries – indeed, it is still being developed by Uzbek masters today.
In Uzbekistan, ikat fabrics are known as abr, an apt name meaning "cloud" or "patterns revealed by the clouds". In the East, crafts might more accurately be called 'art forms', continually reborn over the ages, in keeping with the nation's traditions and the lifestyle of generation after generation. The designs, patterns and ornaments on ikat fabrics, painted so carefully by abrbandi masters, reflect the ancient beliefs and philosophies of the peoples who lived within the territory of modern-day Uzbekistan.
Ever since the period known as the Eastern Renaissance, the craftsmanship of Uzbek masters has brought the world extraordinary beauty and harmony, a culture of perceiving the world around us. It can be said that the skill of these specialists continues to travel the Silk Road today; this ancient tradition brings together the historical and cultural values of many nations and civilizations.
The traditional techniques of the rich and intricate world of silk weaving have been meticulously preserved by Uzbek masters throughout the ages, making it one of our country's true cultural heritages.