Pahlavon Mahmud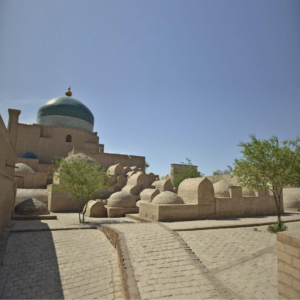 Pahlavon Mahmud is the 14th century poet, philosopher and legendary wrestler, who is revered as Khiva's patron saint. He was greatly respected and venerated by his contemporaries and entered local folklore as a hero of both brain and brawn.
Pahlavon Mahmud rose to prominence as an accomplished poet who wrote about courage, integrity and love. He was famous for his herculean strength and was a superb wrestler, who won every single of his wrestling matches. The legend has it that he was defeated only once when he learned that his opponent would be put to death in case of defeat. In his philosophical theories Pahlavon Mahmud promoted spiritual values, the generosity of soul, compassion, mercy, and obedience to the Creator.
During his lifetime Pahlavon Mahmud gained recognition and fame far beyond Khorezm, and following his death his grave became a pilgrimage site for believers.
According to a legend, the poet was buried in a workshop near his home. The present memorial complex was built at the beginning of the 19th century. Some fragments of adobe brickwork of the earliest mausoleum still remain inside the walls of the mausoleum built in 1810. Later the interior and exterior walls of the mausoleum were covered with beautiful majolica. Within the ornamental interlacing one can read a verse saying: "Will I be remembered over my ashes?"
The construction of the mausoleum was carried out under the guidance of the famous Khivan architect Muhammad Murad. The names of the ceramic masters, who were involved in the mausoleum's decoration, are also known – Usto Sufi Muhammad Niyaz and Usto Abdullah, who defined the Khivan style of the buildings decoration for many decades hence.
The Mausoleum was listed by UNESCO as one of the World Heritage Sites.