The Mir-i-Arab madrassah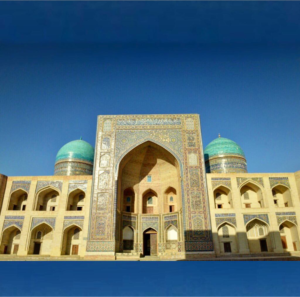 The Mir-i-Arab madrassah – is an Islamic educational and spiritual establishment built in the 16th century. The Islamic school is a part of the Po-i-Kalyan architectural complex. The madrassah stands opposite the Kalyan mosque and is one of the most prestigious Islamic spiritual universities in Central Asia. Famous 19th century philosopher, writer and poet Ahmad Donish was one of many prominent scholars who worked in the madrassah.
The construction of Mir-i-Arab madrassah is credited to Sheikh Abdullah Yamani of Yemen – better known under the name of Mir-i-Arab- who was the spiritual mentor to early rulers of the Shaibanid dynasty.
The madrassah's classrooms are located in three corners of the building. The fourth corner belongs to a necropolis, the burial place of Ubaydallah Khan and his mentor Mir-i-Arab. The wooden tomb of the khan's burial place is located at the foot of Sheikh Mir-i-Arab's grave.
In 1993, the Mir-i-Arab madrassah, among other historic monuments of Bukhara, was included in the list of the UNESCO World Heritage Sites.