Publication of catalogue of paintings by Davron Toshev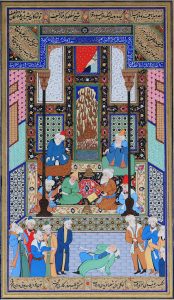 The Islam Karimov Foundation is preparing a catalogue of paintings by Davron Toshev, a leading light in the Bukhara school of miniatures. The publication will be launched in November 2017 at an exhibition dedicated to Toshev's work.
As well as showcasing a range of Toshev's pieces, the catalogue will include detailed descriptions of the paintings presented. As we turn the pages, we follow this acclaimed artist's creative journey and come to a deep appreciation of the contribution he has made to contemporary miniature art in Uzbekistan. The publication highlights pieces in which Toshev seeks to uncover and recreate the finesse of this tradition, capturing both the style of Bukhara's medieval artists and the meaning they infused their paintings with. And indeed, his work clearly demonstrates he has achieved his goal and bridged the gap of generations.
Davron Toshev's work is appreciated by art connoisseurs the world over. His paintings have been exhibited in Paris, Marseille, Geneva, Moscow, St. Petersburg, and other major cities.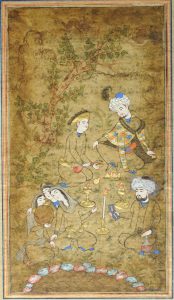 Toshev, who hails from Bukhara and began painting as a young boy, has earned a special place among Uzbekistan's contemporary miniature artists. While recreating the work of famous masters, he immersed himself in their world of harmony, beauty, and profound philosophy. Today he uses only precious hand-made Samarkand paper and, wherever possible, natural pigments. His miniatures are fine masterpieces, painstakingly executed with the aid of a special magnifying glass, each piece taking months or years to complete; he spent a full seven years on one, for instance. His works embody the particular inspiration which flows from Oriental verse, the source of his subject matter and wellspring for renewing the forgotten traditions of the Bukhara school.
The Islam Karimov Foundation is a non-profit organisation established in memory of Islam Karimov, the founding father and first president of the independent Republic of Uzbekistan. The Foundation seeks to support and develop native schools of contemporary art and facilitates exhibitions and other cultural events both in Uzbekistan and abroad.