The Barak Khan madrassa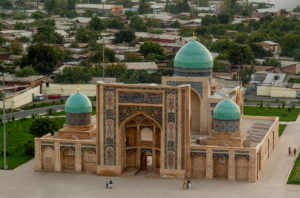 The Barak Khan madrassa is one of the most spectacular historical monuments of the Uzbek capital, Tashkent. Located next to Hazrat Imam Square – which for centuries was an important venue for the gatherings of philosophers, scholars and theologians – the madrassa stands as a symbol of the city's historic grandeur. The architectural complex was built in several stages and was completed in 1532. It consists of a madrassa itself and two mausoleums attached to it. This religious educational establishment was named in honour of Tashkent ruler Navruz Ahmadkhan (nicknamed Barak Khan), a grandson of the 15th century Samarkand ruler and famous scholar Mirzo Ulugh Beg.
Until 2007 the madrassa building housed the office of Uzbekistan's Muslim Spiritual Board. Just opposite the madrassa stands the Muy Mubarak complex, which houses an impressive collection of historical manuscripts, including one of Islam's most sacred relics, the Othman Quran. It is believed to be one of the world's oldest manuscripts of Islam's holy scripture, and was brought to Central Asia by Tamerlane. The Barak Khan madrassa's artistic design is not typical for Tashkent and differs significantly from traditional structures of this kind.
The complex includes two mausoleums which were constructed even before the madrassa itself. The madrassa was built of brick and is topped with three blue domes. Its portal is decorated with gorgeous mosaics and paintings. Its courtyard is surrounded by single-storey khujras or student dormitories. The doors of the khujras and the madrassa's gate are inlaid with ivory and nonferrous metals.
The madrassa was severely damaged during the 1868 earthquake and subsequently underwent substantial restoration work. It currently houses a number of workshops, where artists and artisans create beautiful works of Islamic calligraphy and handicrafts.