The legend of Layli and Majnun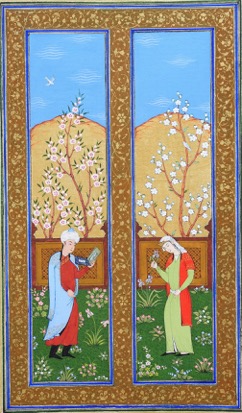 The tale of beautiful Layli and passionate Majnun is often described as "the Romeo and Juliet of the East" for its long-lasting and universal appeal. It is based on the real story of a young man called Qays, nicknamed Majnun (which means "possessed by jinn", "crazy" or "mad") who lived in the Arabian Peninsula during the 7th century. The enduring popularity of the legend had a profound influence on Eastern literature as well as Sufi writers who considered the story as an allegory of mystical love, the experience of the soul in search of God. In the 12th century the story was penned by Nizami Ganjavi, great romantic epic poet in Persian literature, who lived and died in Ganja, an ancient city in Azerbaijan. Nizami was the author of the legend's first literary version, and it was one of the five poems which comprise his Khamsah ("The Quintuplet" – a collection of five epic poems). Inspired by Nizami's influential model, a number of other prominent poets wrote their own Khamsahs that are based on conventional themes in Islamic literature, such as "Layli and Majnun" and "Farhad and Shirin". Alisher Navoi was the first poet to write Khamsah in a Turkic language, since all khamsahs written previously were in Persian.
Poet and scholar Alisher Navoi (1441-1501) is one of greatest representatives of Uzbek classical literature. He was among the key writers who revolutionized the literary use of Turkic languages. His best-known poems are found in four great divans, or collections of poetry, which amount to some 50,000 verses; each collection corresponding to different phases of human life.